Use Photos for Fashion Design Inspiration
Hello Everyone,
I like traveling and capturing marvelous moments of life around. Some photos inspire me to create new designs. During my visit to the Prague Zoo I came across a funny view and made a cute photo. Have a look at this incredible friendship between crocodiles and turtles!
I can't say that crocodiles usually inspire me.
However, this time I felt the urge to experiment with my photo. Very interesting effects can be achieved by applying certain filters in Adobe Illustrator or Adobe Photoshop. The simplest way is to make the photo greyscale, cut out the needed part, blur the edges, and use it as a textile print. Let's place it on a denim vest.


Another way to play with the photo is generation of various abstract patterns. Such experimentation can lead to completely unexpected results that may inspire creation of a new fashion collection. Abstract patterns can be used in garment embellishment as well. After experimenting with my cute turtle-croc photo I came up with the following abstract pattern:




NOTE: No real turtles or crocodiles were hurt during the transformation.
Now, let's make a mirror reflection of this pattern, copy it and create a new pattern that can be used as the motif for a new textile print.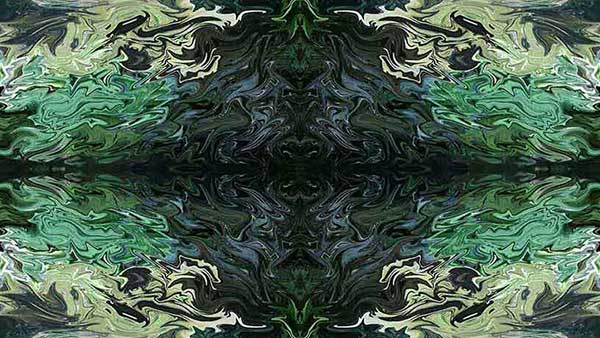 The motif repeats and forms a new textile print.




Let's fill a skirt with this print.




We can complement this skirt with a jacket or a vest made of artificial leather and continue as long as our imagination flows.
Here's another photo transformation example. We can cut out any object from a photo, for instance, a flower.

This photo is the courtesy of Gennady Bondarev.



We can turn easily this rose into a completely different object and create any pattern we want, by using Filter Gallery or Effect Gallery filters. It is possible to create compositions from real flower photos without transforming them into abstract objects. Desired textile pattern can be created right on the garment details. Anyway, the idea is usually born first and the detailed technical design comes next.




If you are a fashion designer or just on your way to become one, you should learn at least two digital tools to meet demands of this profession, namely, Adobe Illustrator and Adobe Photoshop. These two apps complement each other. Convenience of drawing vector objects in Adobe Illustrator is accompanied by convenience of working with photos (raster objects) in Adobe Photoshop. The unparalleled alliance of these powerful tools is a solid foundation of competitive Digital Garment Design.
By studying with my e-textbook "The Craft of Garment Design with Adobe Illustrator (Chapter 10) you will learn how to use Adobe Illustrator for creation of various vector patterns, as well as abstract patterns made from photos.